Eaton Manor Estate
Sleeps 56 in 8 Cottages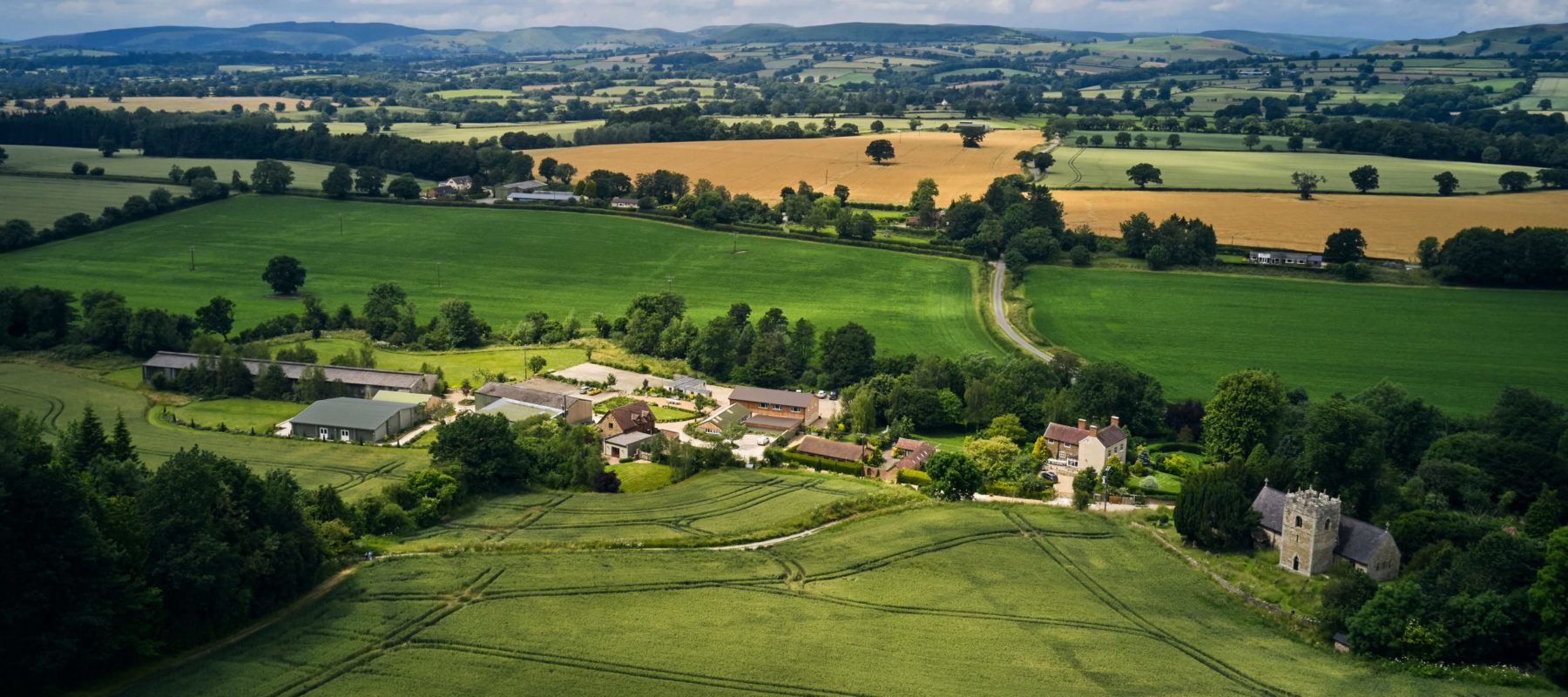 "We've just returned from an amazing weekend at Eaton Manor and wanted to say thank you to you and your team for everything, from the welcome packs (loved the cakes!) to sorting out the banquet hall for the life drawing we really couldn't have asked for more."
8 cottages
Sleeping up to 56 in 29 bedrooms
28 bathrooms (25 are ensuite)
Large group dining available
Dogs Welcome
4 Accessible Cottages
Eaton Manor Country Estate can be booked in its entirety, complete with eight stunning self-catering holiday cottages and exclusive use of all of the on-site facilities – perfect for a large get-together.

If you are looking for exclusive use of this fantastic country estate, set in 500 acres of beautiful countryside, please contact us. We want to ensure that this is the perfect venue for your group and therefore do not offer online booking of the whole estate. We would be delighted to arrange a time to show you round Eaton Manor, either in person or by video call, and discuss your plans.
The estate has eight cottages in total:
In total the eight cottages can sleep up to 56 in 29 bedrooms (of which 25 are ensuite), and so hiring them together is ideal for large family celebrations, weddings, reunions or retreats.
We can offer group dining in Toad Hall (seating up to 28 by prior arrangement) or, for larger groups, in our on-site banqueting room. Our fantastic local chefs can provide catering (either full catering for the whole stay or for just part of it). Three or four course dinners, breakfasts and buffet lunches are all available – simply let us know what you would like and we can arrange it.
For information about the layout of each cottage please click on the links below to visit the individual cottage pages:
The individual cottage gardens on the estate are all private, large, enclosed and very well maintained with plenty of space for everyone, including outdoor seating and large lawned areas on which children can play. The three Estate Apartments, Great Western Lodge, Woodpecker Way & Pheasant Walk, each have an enclosed patio area.
There is also patio furniture and a charcoal barbeque with each cottage, which provide an ideal way to spend an idyllic summer evening soaking up the beautiful South Shropshire views.
Swimming is available on the estate from the beginning of April to the end of October.
There is a very large, shared, on-site games barn on the estate and a huge playing field, both of which are a very short stroll from The Manor House, Toad Hall, Curlew Cottage and Garden Cottage, and just a 5 to 10 minute walk down the lane from Pendennis, Great Western Lodge, Woodpecker Way and Pheasant Walk.
Parking is plentiful at Eaton Manor, with each cottage having its own private gravelled driveway.
Each cottage on Eaton Manor Country Estate is generously equipped with everything you might need during your stay, from cooking up a feast to keeping the kids entertained.
However, at Eaton Manor Country Estate we offer more than just self catering, we have some fantastic additional guest services to take the pressure off so you can truly enjoy your stay.  For example:
You could have your own private chef to prepare and serve a delicious dinner to you at your table.
Or perhaps a Sunday brunch or afternoon tea.
You could indulge in a delivery of superb wine or local ale.
And you can enjoy having your internet grocery order delivered for when you arrive.
Whatever you want to get out of your stay with us, we will do our utmost to cater for you.
Please Note: Complimentary wi-fi is available in each cottage.
We welcome dogs at all the cottages by prior arrangement, and for a small additional charge.
As well as enclosed gardens/patios and wonderful walks from the door, we provide a number of complimentary extras for guests with dogs.
Four of the eight cottages are accessible, as follows:
We can provide a variety of complimentary reduced mobility items to make guests' stay more comfortable (to be pre-booked).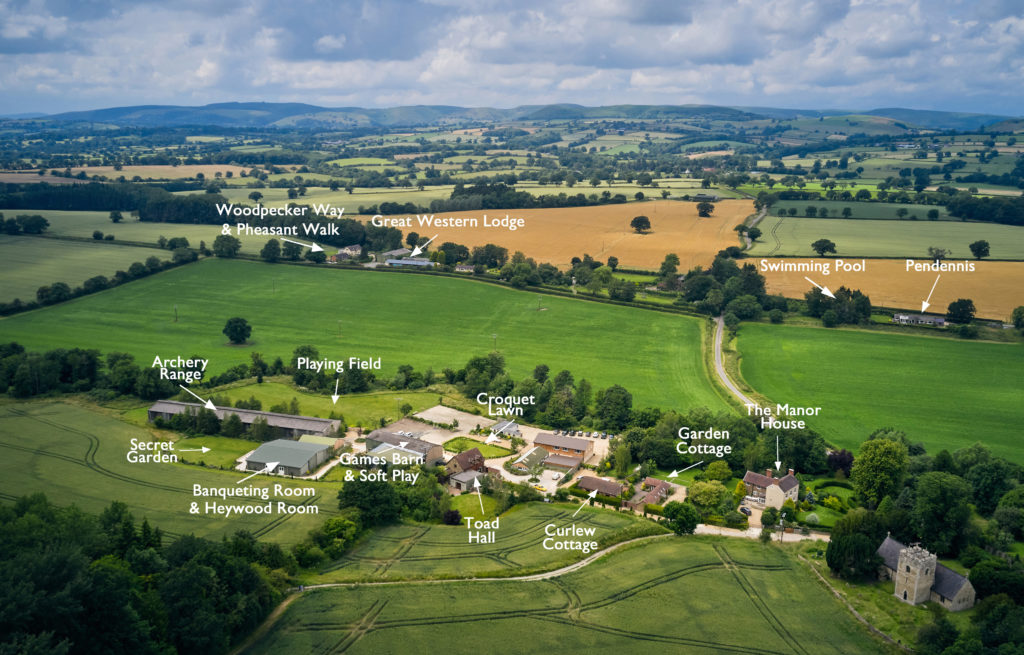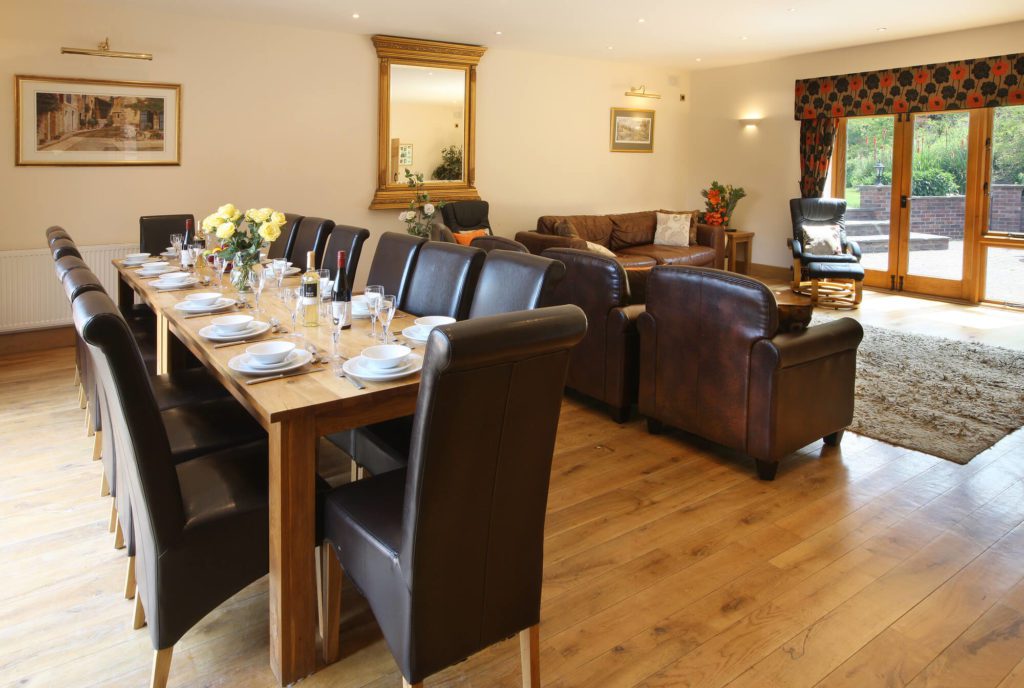 Everything you need to know before your stay at Eaton Manor Country Estate
What others are saying...
"We had a wonderful week in Curlew Cottage. It had everything we needed for a great holiday. We made good use of all the amazing facilities on site; we swam in the pool every day, had a very enjoyable archery lesson for the whole family, played croquet, and spent many hours in the games barn... Great fun was had by all. We would highly recommend this beautiful place to stay."
"We were part of a party of 21 staying at Eaton Manor to celebrate a 50th birthday. We spent the majority of our time at the manor house but we were very impressed with Great Western Lodge, it was very clean and had everything we needed. Would recommend."
"Garden cottage was lovely; extremely clean and with nice touches. The large and beautiful garden was secure for the dog."
"We had a lovely stay in this cottage. The kitchen is better equipped than my own at home, it's immaculate throughout and the decor is very tasteful. The garden is safe and secure which was perfect for our kids to run around and kick a ball in."
Where on the Estate
The Entire Estate For You
Everything you'll ever need
We pride ourselves in helping you organise your special event or celebration, be it a milestone birthday, reunion, anniversary or simply an excuse to get together with friends and family. There is so much to enjoy on the Estate as well as exciting activities and guest services - and if you have a particular activity in mind please let us know and we will try to source it locally for you.
Let's stay in touch!
Join our mailing list for the latest news and special offers.